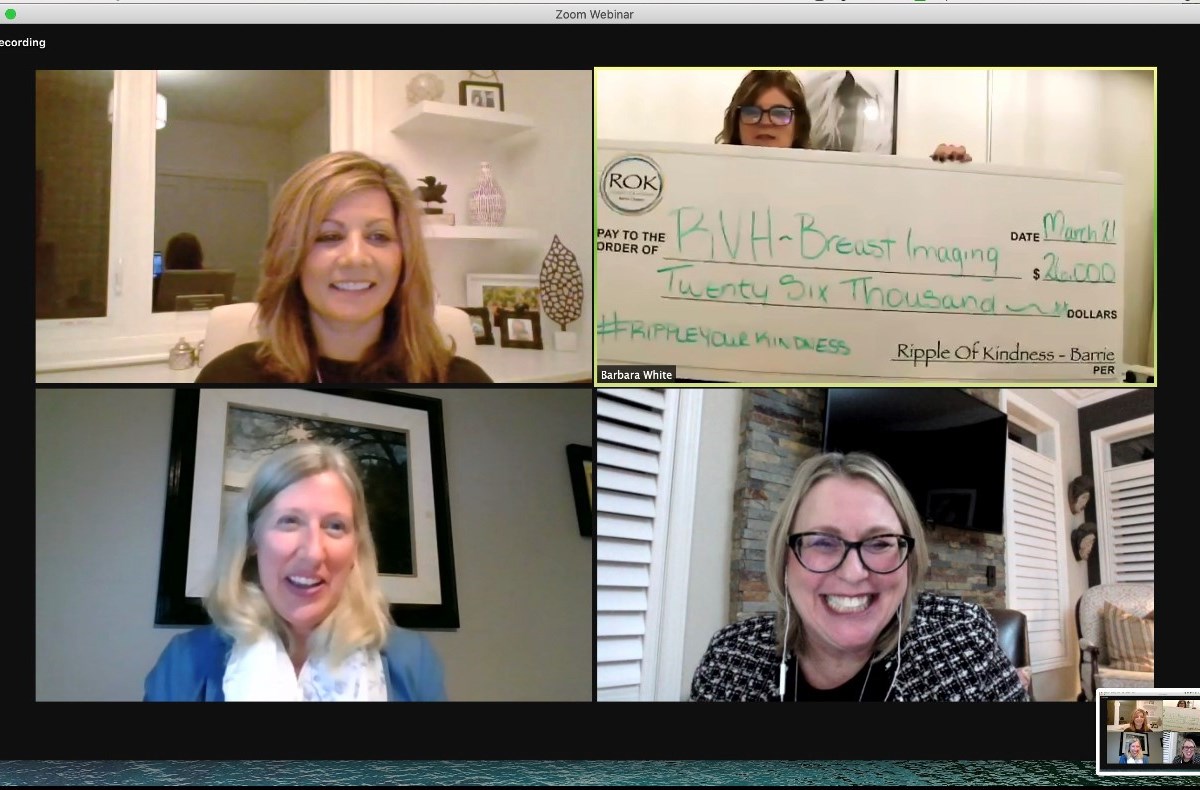 More than 260 women made donations in support of women's health at the Barrie hospital
NEWS RELEASE

RIPPLE OF KINDNESS

*************************

We are happy to let you know that last night, Thursday, March 11, 2021 Ripple of Kindness Barrie and their membership of over 260 women made their donation to Royal Victoria Regional Health Centre – Breast Imaging in the amount of $26,000, taking the lead in supporting women's health as RVH launches their Moments Matter campaign. 
Mammograms save lives. Our members heard from Rebbeca Truax, Director of Philanthropy and Heather Gillis, Operations Director, Medical Imaging + Laboratory Medicine.
Ripple of Kindness was founded in 2016 by Barbara White and Mary-Anne Frith, who both saw the need for community giveback and kindness in their community. To date, the Barrie Chapter of Ripple has donated back into the community $400,700 to 14 different charities. 
Some of the other charities that have benefited from Ripple were Gilda's Club Cancer Support Community, Hospice Simcoe, OSPCA and the Barrie Food Bank to name a few.
Two other Ripple of Kindness Chapters began in 2019, one in Orillia, who have donated $86,200 and one in Muskoka with their first donation of $ 5,000, bringing the organization's give back to their communities at almost $500,000.
As there are no limits to kindness, there are also no limits to membership.  If you are interested in connecting with the group of like minded women please reach out. The commitment is $400 per year. Visit their website at www.rippleofkindness.ca or email them at [email protected] for more information.
#rippleyourkindness
*************************