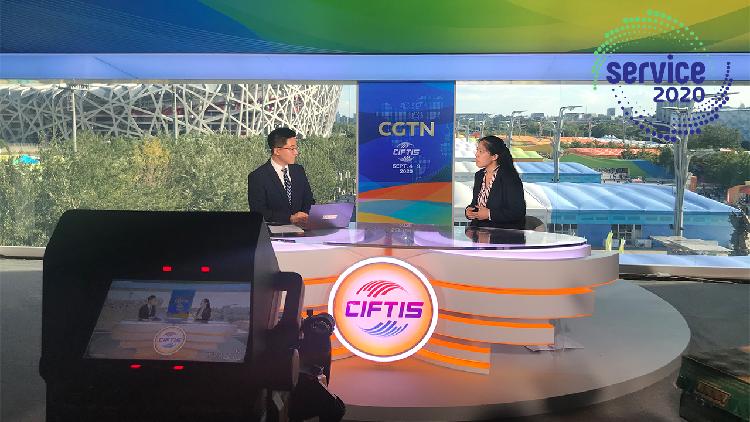 A blockchain-based platform for trade finance developed by the Digital Currency Institute (DCI), the research arm of China's central bank, the People's Bank of China (PBOC), has managed to shorten the time it takes to apply for trade financing, according to a staff at the institute.
DCI's Wang Yimeng said that the amount of time it takes for small and medium-sized enterprises (SMEs) to apply for trade finance traditionally would take approximately 10 days, but that now could be shortened to two hours thanks to the online digital ledger platform.
"Our platform aims to solve major problems in (the) real economy and serve the strategic development of the country, such as supporting the development of small and medium sized enterprises, in the private and public sectors," Wang told CGTN in the sidelines of the China International Fair for Trade in Services (CIFTIS) 2020 in Beijing.
The trade finance platform, officially called the People's Bank of China Trade Finance Platform (PBCTFP), was showcased at the CIFTIS services fair. The PBCTFP was developed by DCI following independent research and development and launched on September 4, 2018. The real-time sharing unified ledger provides various trade financing services especially for small and medium-sized enterprises.
In an introductory document from the DCI, the platform is said to be able to tackle problems of slow information transmission between government agencies, prevent repeat verification and authentication of paper information, prevent data fraud as well as assist in regulatory supervision.
"Along with the continuous development of Chinese economy, the scales of trade and trade financing are increasingly growing, which calls for higher standards for efficiency, authenticity, synergy, compliance, security, privacy and stability in trade financing," Wang said.
Wang added that the platform's ecosystem international digital trade is expected further developed alongside with various parties, including technology companies, financial institutions, and government agencies, to industry enterprises.
"PBCTFP will work with counterparts and partners to build up the platform as an operating system, like an App Store of international digital trade. So we welcome all related institutions to join, to develop their own applications for different use cases that meet diversified demands such as efficiency, synergy, and compliance in trade finance."
"The connection between PBCTFP and other platforms in other countries can solve the problem of data exchange and help cross-border trade finance," said Wang.
The platform currently runs on four apps and has incorporated hundreds of sub-branches network of 48 commercial banks. It has reportedly facilitated 50,000 business transactions with a cumulative volume of more than 181.6 billion yuan.
Future plans for the platform include further integration with similar blockchain platforms globally to further provide more convenient trade financing services, to build an "expressway of global trade finance."
A report from McKinsey said the platform could "create significant new opportunities" for banks, SMEs and service providers. Chinese President Xi Jinping said last autumn the country had to "seize the opportunity" when it came to blockchain technology, including increasing government investment and development in core technology areas.